Click here for photo gallery (courtesy of Kevin Murney)
Fixture: St Convals YFC v Knightswood BC
Competition: Under 16's Scottish Cup Quarter Final
Venue: Linwood Sports Centre
Date: 14/02/15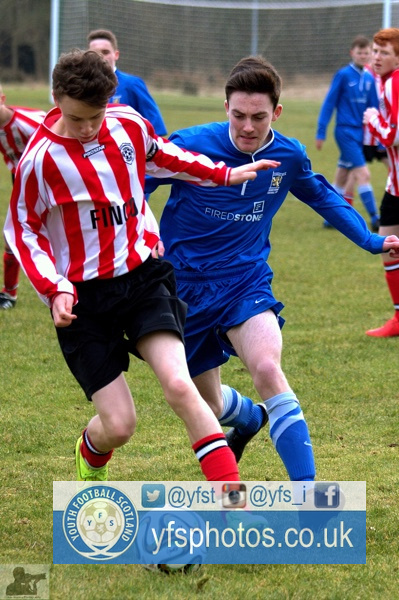 Knightswood Boys Club u16s progressed through to the Semi Final of the Scottish Youth FA Cup after a hard fought 2-1 win against St. Convals Youth Club. Two goals from Darren Robert Halligan was enough to give his side the win away from home at Linwood Sports Centre.
The opening minutes of the match were fairly even and had the feeling of both teams trying to suss each other out with few chances coming either way. However, on the 13th minute Knightswood opened the scoring. George Munro whipped in a perfectly placed free kick to the back post and Halligan was waiting all alone to volley home the opening goal of the game.
The goal seemed to settle Knightswood into the game and they were unlucky not to double their lead immediately, after Kyle Harley put another volleyed effort over the bar after receiving a cross from Calum Nicholson. Knightswood were having a lot of joy doing the right wing through Nicholson.
Chances were few and far between for St.Convals in the first half. Any good play they did have was usually through their strong centre midfielder Josh Graham who was doing his best to keep his team competitive in the match. Striker Scott Thomson was also doing his best to cause troubles for the organised and strong Knightswood's back line. Thomson was almost through on goal but his touch let him down at the pivotal moment.
Knightswood's set pieces were causing St.Convals trouble as they all too often failed to defend them. A series of corners saw Kyle Hannah have a headed effort tipped over the bar after a great save from Sam Smith. Halligan also headed wide after finding himself alone at the back post and he really should have scored.
Halligan and Knightswood didn't have to wait long for their second. It was another free kick and once again Halligan found himself alone at the back post with the ball landing at his feet this time to double his side's lead five minutes before the half. Great positioning again from Halligan to get free at the back post and his finishing was not to be sniffed at either.
The second half initially looked to be in danger of petering out with no real chances in the first 20 minutes. However, this was in no small part to Kinghtswood complete control of the game due to their high work rate and impressive organisation and structure.
Halligan once again found himself alone at the back post and headed his effort just wide, missing the chance to put the game beyond doubt. Halligan may have been disappointed to not score at least a hat-trick but his effort and play made him far and away the man of the match.
St.Convals then blew new life into the game as Ryan Connelly scored after a long throw in. It was the first mistake the Knightswood defence had made all game as they failed to deal with the high ball into the box. Connelly acted the quickest and put the ball past Jack Torrence who had an incredibly quiet game in goal up to that point.
Both teams went in search of the vital fourth goal and Kinghtswood came close through Halligan and Blair McEwan but Sam Smith was equal to both efforts.
A couple of massive decisions from the referee as St.Convals had good claims for two penalties in quick succession for challenges on Ryan Connelly and Sean O'Donnell. Connelly will feel particularly aggrieved as it did appear that the sliding in defender took Connelly's boot before the ball. The referee was unmoved and confident in his decision not to award a penalty for either challenge.
Once again, Knightswood had chances to kill the game off through Nicholson and Halligan. Knightswood were nearly made to pay for their missed chances as time ran down in the game. A free kick delivered into the box by Josh Graham and was met by the glancing header of Nathan Walton-Craig but the ball was just agonisingly wide and it was a matter of inches that was the difference between full time and extra time.
Knightswood managed to hang on through the final moments of the game and it is they who marched on to the Semi Final. Head Coach Gary Sove was keen to point how delighted he was with his teams work rate and effort to get this far in the competition.
Full Time : St Convals 1-2 Knightswood BC