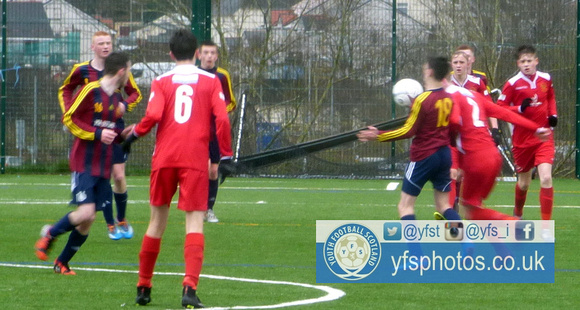 Bad weather had moved the game from Cummnock, but both sides went on to give us a thrilling cup semi final on the astro at Loudoun Academy. In a game that could have gone either way Crosshouse reached the final courtesy of Jordan Mason's first half goal.
The game kicked off just over an hour late and began at a hectic pace in driving rain. To their great credit both sides settled into the game and tried to play the ball on the deck as the game went end to end.
Both had struck woodwork within the opening 20 minutes. Firstly on 12 minutes Crosshouse's Christopher Law burst down the right and floated a cross, come shot which grazed the top of the crossbar. Then, 5 minutes later it was Hamish MacLeod's turn at the other end to crack the bar with a shot from just outside the box.
Banks O'Dee were settling into a rhythm as they played the ball around, with Fraser Bryce making some promising runs down the left. Crosshouse were making an impact through the middle, with Connor Smith firing just over on 22 minutes.
On 28 minutes the Ayrshire side were in front, in fortuitous style. From the right hand corner of the box the ball skidded in low off the wet surface and Jordan Mason got the decisive touch on it as the ball trundled into Vitali Sahhalevits' far corner.
Crosshouse continued to enjoy a good spell, buoyed by their opener. Mason and Law were causing problems with menacing runs down the flank. For 5 minutes or so Banks O'Dee were pegged back, perhaps rattled by going behind.
Slowly though the Aberdeen regained some composure to get up the pitch and exert some pressure of their own, coming close to an equaliser. Firstly Ben Ross came close, and then MacLeod had another shot straight at Jamie Wilson in the Crosshouse goal. Then up the other end came on 34 minutes came the game's moment of controversy.
The referee had appeared to award a penalty for an apparent trip on Ryan Jennings in the Banks O'Dee box. But, after consulting with his linesman, he over ruled the call, to the consternation of the Crosshouse bench. It was certainly a late call.
Time would tell whether this was to have a bearing on the outcome of this tightly contested cup tie. Banks sought to capitalise on their reprieve before the interval, with chances falling to Bryce and Mark Reid, before the referee blew for the break.