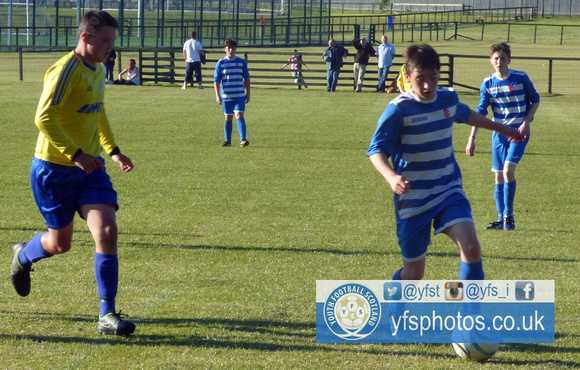 The campaign for Summer football was in full swing on a sun-drenched evening at Kilwinning Sports Club as these two sides served up a match of last-minute drama. Rovers held the slight edge in the second half, before Galston rallied with a sensational last-minute equaliser to force extra time. As penalties loomed, KSC then secured the trophy in a grandstand finish with the very last kick of the ball.
It was a game that on the balance of chances created KSC just about merited, but the Galston side can look back at a spirited effort in which they never gave up. They had their opponents rocking at the end of normal time and may have snatched it had the game gone on just a few minutes longer.
KSC enjoyed the bulk of the early first-half pressure, with a couple of tidy runs from Liam Larmour and Thomas Johnston testing Regan Menzies' handling skills in the opening quarter of an hour. The high pressing game continued to keep Galston in their own half, seeking to force mistakes and capitalise on loose balls. Jared Peacock went on another run through on 19 minutes, shooting straight at Menzies.
Galston were being denied space to allow midfielders Dylan Johnston and Kyle Lennon to influence the game and ply the ball around. Instead they found a few half chances from the direct approach, with Cameron Orr almost finding Luke Ballantine in the box from a couple of long balls. Ballantine was almost through on goal on 29 minutes but for a last-ditch tackle.
Larmour passed up a golden opportunity for KSC on the half, driving just over from a corner kick, as KSC continued to enjoy the bulk of the midfield play. Just on half time though Galston almost caught them napping as Connor Montgomerie just held onto Ballantine's header from a Loudon Strachan free kick.